MOUNTAIN BIKING RIDING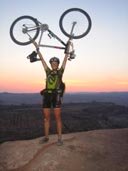 Mountain biking riding is one my favorite sports in adventure racing. It was a skill that was put on the back burner for a while, but learning to mountain bike well, really improved our teams' times.
I used to fall all the time. It is a strange sensation as you don't think of falling off your bike as an adult.
I had my first crash at age 8. I rode down a huge hill. I wanted to see if I could brake when I got to the driveway and still stop before hitting the garage.
Well I could not.
I bent my brand new frame
I have now moved to a much better bike with knobby fat wheels. Mountain biking takes place either on mountain bikes that have been specially equipped to be ridden on the trail, or on hybrid road bikes, that have been modified.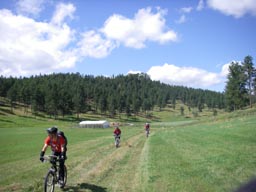 The mountain bikes themselves are ready for the rough trail, with tires that are wide and knobby, and a frame tubing that is large and round. The bikes usually have a front fork or dual suspension, and often come with shock absorbers. The bikes are heavy, but work well under their riding conditions.
I say the bikes are heavy. I actually ride a 21 pound bike which is quite light for mountain bikes. It is a hard-tail so it is not as heavy as a full suspension. It is important to get the right sized bike for your sport.
In adventure racing, mountain biking is one of the most fun things we do. There is often a steep climb, but the reward is flying down the mountain. It is always nice to be off your feet for a while. At Primal Quest Montana we rode up a ski slope for 7 hours! I was ready to be back on my feet that time.
We have lots of information on mountain biking. From sizing, to the history to the parts, I have you covered.





---

MOUNTAIN BIKE SIZING

---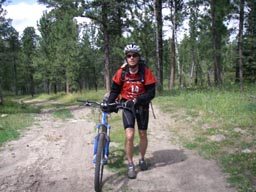 Mountain bikes come in all shapes and sizes. Some with one fork, some with smaller wheels, disc breaks and all different heights.
It is very important to find a bike that fits. It will help your skills and bike handling, not to mention ease the pain if you fall.
From the fore aft, to the saddle height, to the handle bar height, there is allot that goes into picking a mountain bike. We have a detailed page right here called Mountain Bike Sizing.





---

MOUNTAIN BIKING EQUIPMENT

---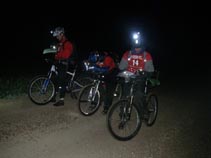 A mountain bike is different than your street bike. It has a stronger rim, a larger range of gears, and a rising handlebar that makes it easier to control.
The bike pedals range from regular platform pedals to clipless pedals that allow a person to use a shoe that actually engages into the pedal.
I started off with pedals with cages, and moved to clipless, which is quite easy once you get the hang of it. To learn all about bike pedals go to our page Mountain Bike Pedals. If you go for clipless pedals you'll need some new shoes. This page tells you what kinds of shoes are for mountain biking. You'll need a helmet as the trails require them and it is a good idea. To find out how to buy the right helmet see our page on Mountain Bike Helmets. You'll fall allot more on a mountain bike than a street bike. Gloves. are a good idea for gripping and for hand protection if you fall.
Comfortable shoes and clothing can be found and most of it looks pretty cool. You do not have to wear spandex like you do on the road. Mountain biking riding shorts have a chamois built into baggy shorts.
Check out other gear at on our page Mountain Bike Accessories page.
You'll also want a water bottle holder or just wear a camel back and also some basic tools.
Something else the frequently comes up is the type of brakes you want. Most new bikes offer disc brakes. Check out your options though, because if your and adventure racer you may not want disc brakes. Check out the differences at Mountain Bike Brakes. Another big decision you'll make is whether to get a hard tail or full suspension. There is a big difference, so try both. I ride a hard tail, to make my bike lighter, but many swear by a full suspension.
Compare the differences here.... Mountain Bike Shocks.

Eventually you'll to replace your tires. On our Mountain Bike Tire page we review the types of tires, tire pressure and the best brands.





---

MOUNTAIN BIKING SKILLS

---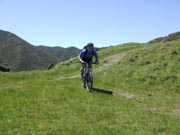 When I first started mountain biking I was pretty shaky on the bike. I was nervous to ride over things and a bit wobbly.
It didn't take long though to pick up some easy skills. Endurance was certainly helpful and then just learning to handle a bike very well. The rough terrain makes it helpful to have a strong core to handle the bike.
I used to train for adventure racing a lot on roads. When I got to the trails however, all the bike handling and climbing would wear me out. Now I spend at least once a week on the trails. My skills and fitness have soared!
There are some basic mountain biking techniques that will have you soaring down the mountain. If you need specific tips for adventure racing, get some great mountain bike tips from Adventure Racer Bill Lovelace and learn bike handling at Mountain Bike Tips.
---

MOUNTAIN BIKING HISTORY

---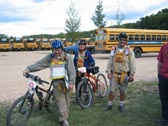 The history of mountain biking riding is rich. It became popular in the 1970's with wider tires and knobby wheels a group of guys started going off road.
Some of these legends were Joe Breeze, Otis Guy, Gary Fisher, and Keith Bontrager, played a central role in moving mountain biking from a hobby to an actual sport.
Gary Fisher has come to ride our trails here in humble Texas! To find all about how mountain biking riding started see our page Mountain Biking History.





---

TYPES OF MOUNTAIN BIKING RIDING

---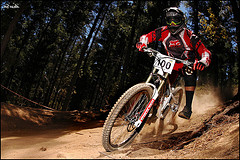 There are several main types of mountain biking that are making new mountain biking history. These are Cross Country, which is riding point to point or in a loop over a variety of terrains.
They also do Dirt Jumping, which is riding over dirt tracks or soil that gives them the terrain to work with.
Downhill is another form of mountain biking,in which racers race only down hill no climbing. Learn about this sport at Downhill Mountain Biking. There is also Freeride mountain biking riding, which pretty much allows the riders to do anything they'd like. Trials include all of the above, but also hopping and jumping their bikes over obstacles. Most mountain bike enthusiasts participate in all of the types of mountain biking.
The latest and most daring is extremem mountain biking. To learn all about this sport check this page... Extreme Mountain Biking.


---

MOUNTAIN BIKING MAINTENANCE

---
Taking care of your bike is of great importance.
There are things you need to do after each ride.
Check out what to do after 3-5 rides and after every ride at Mountain Bike Maintenance.





---

MOUNTAIN BIKING RIDING RESOURCES

---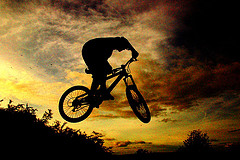 A book that has been highly recommended by the Xterra race and other excellent mountain bikers is called How to Master Mountain Biking by Blair Thorne. This books teaches you about speed, how to clear obstacles, how to turn corners and more.
Do you need information on how to buy a mountain bike?
Todd Molloy teaches you how to be sized for your bike, how and where to test your bike, and where to buy it from. This is a nice addition as you definitely want to get the "right" bike for your mountain biking riding. Your Essential Bike Buying Guide by Todd Molloy.
Return Home from Mountain BIking Riding