Christian Motivational Speaker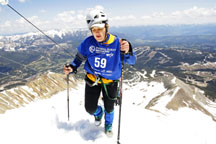 Kim Dunkin
Welcome!
When asked to be a Christian Motivational Speaker, I was not sure. I am a coach and a teacher, but speaking? Oh do not get me wrong I love to be in front of people, especially talking about adventure racing and when God calls you must answer.
---

CRAZINESS

---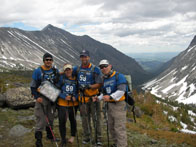 My friends always said there was some reason I do this craziness! Craziness referring to the type of racing I do, not literally crazy.
It all started over 40 years ago. I am a firstborn and grew up in a Christian home. In fact my dad was a preacher. But do not worry I am not the typical preachers kid. I was only mildly rebellious.
At the age of four I accepted Jesus as my savior. In the fourth grade I wanted to be a missionary. At the age of 14, I sort of got that chance. I moved to California with the Home Mission Board and my family of course to start a church.
I was born with a love for athletics and pushing the limits!I played soccer and softball and began coaching at the age of 16. I went on to play college ball and that is where I learned in order to witness you need to "earn the right to be heard." By forming relationships and earning respect she found opportunities to share her faith.
Now at the time I had no idea that is what I was doing. I just loves sports, wanted to win and did everything I could to do so. While doing this I formed strong bonds and in so earned the right to be heard.
I had the desire to play pro sports, but my two sports were not pro at the time. I then took up Karate hoping to compete in that. I had decent success, but I wanted to push the envelope more.



---

ADVENTURE RACING

---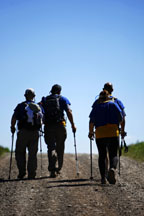 I then tried adventure racing and was hooked. I went from a 2.5 hour race, to a 33 hour race, to a 72 hour race and eventually a 10 day race called Primal Quest.
It was in doing this that God opened up those doors to be heard. Competing in a race such as this opened many doors. Now I just think I am a stubborn athlete, that finally found a sport that those attributes helped me excel at.
Education
Prior to all this I graduated from Southwestern Baptist Seminary with a degree in Religious Educations. I planned to work with youth, but God led her in another direction-coaching and parenthood!
The Rebellion
Right before my adventure racing began my husband and I attempted to adopt three children from CPS. In a heartbreaking turn of events we were unable to adopt after 9 months of the children living with them.
I want through a very dark time for me. Many may not have even known it, as I was good at hiding it. I was a pious christian and had always belittled those who questioned God.
Well not that person was me. I probably spent 3 years, not reading my Bible, being very angry with God, and my church attendance was sporadic. Even after our adopting son, I was still angry. It took me a couple of years to realize my son didn't need an angry mom and eventually I turned back to where I belonged.
---

RECENT ENDEAVORS

---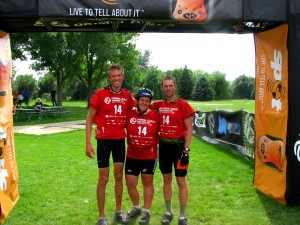 I taught for 5 years, coached for 18 years and own Kid Konnection, where I teaches martial arts. Right now that actually just consists of teaching at my sons school, so I can spend the most time with my family possible.
My most recent endeavor was Primal Quest Badlands
It was life changing, hear breaking and fulfilling all in one race. The event last 10 non-stop days. This means no sleeping! The events included mountain biking, river boarding, kayaking, mountaineering and ropes.
---

SHARING

---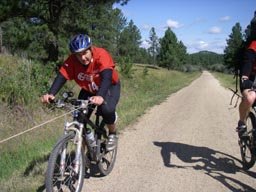 I enjoy sharing on the following topics, but am willing to broaden my horizons!
1) Earning The Right To Be Heard:
Be a missionary in all areas, whether it's your athletic team, cooking group, mom's group, workplace or gym.
2) What To Do When It Seems God Turns His Back
I'll share with you my story of adoption and the heart break I went through after losing our first 3 children to an abusive home. This propelled me into a live of adventure racing and eventually back to God.
3) How To Succeed As A Team
I know firsthand what it is like to succeed due to a team. Being the slowest one on the team I must rely on my teammates. Without each other, we do not finish or finish well. I'll tell you about what it takes to succeed in these races and how we do it together.

Contact Kim for More Information or to set up an engagement


Return to Motivational Speaking from Christian Motivational Speaker


Home